In Song of Solomon 4:12, Solomon describes his bride as a garden, a spring enclosed, and a fountain sealed. What a beautiful picture! For us married women our bodies are gardens that are enclosed, private, and only for our husbands. When you are single or married and give yourself away in an intimate way to a man who isn't your husband you become like a public garden that is without boundaries of protection. The marriage covenant provides a protective fence for us married women. For single women, God provides protection for you through his desire for you to remain pure until you are married. Let us not be Christian women who leave our gardens unprotected allowing men to come in and partake of fruit that doesn't belong to them.


Here are a few ways to avoid leaving your garden unprotected: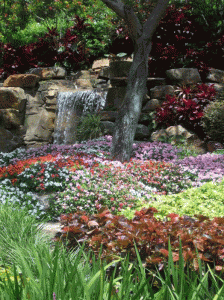 Don't communicate to men around you that you are "available"
Don't engage in flirtatious speech, looks, or behavior
Don't allow anything about your speech, actions, dress, or attitudes to suggest to men that you are inviting them to "partake" of intimate parts of your body
Be discreet and restrained in the way you talk to men
Erect (and maintain) adequate "hedges" in your relationships with men; you know what your areas of weakness are so make your hedges based on those weaknesses
Dress in a way that helps men to keep their thoughts pure and Christ-centered. You can still look feminine but in a modest way.
Don't fuel sensual thoughts and desires through books, magazines, TV programs, music, or movies that are not morally pure.
Let a Christian man pursue you not vice versa and only pursue a courting relationship if you both are desiring marriage and are spiritually ready for marriage; women ready to submit as unto Christ and men ready to lead in a Christ-like way.
This is not an exhaustive list but I believe these are a few ways we as Christian women can guard our hearts and minds against sexual temptation. Marriage is a wonderful gift from God with many wonderful benefits. Singleness, is also a wonderful gift! Rather we are are single or married let us be women who seek to glorify God not just in word but in deed also.
1 Peter 3: 3-5 "Your adornment must not be merely external—braiding the hair, and wearing gold jewelry, or putting on dresses; but let it be the hidden person of the heart, with the imperishable quality of a gentle and quiet spirit, which is precious in the sight of God".


*Some of the above suggestions were taken from self-examination questions asked in "Becoming A Woman of Discretion", by Nancy Leigh DeMoss.